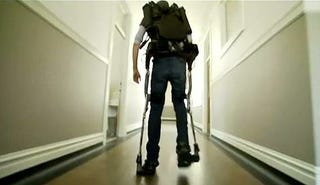 When I first see the Human Universal Load Carrier (HULC), it is hanging limply from the ceiling by a strap attached to its neck, dangling over a treadmill. I can't wait to try it on.
It has got two spindly black legs attached to a backpack with long rectangular batteries on the shoulder blades and an armored computer in the small of its back. Amusingly, it has radiator fins instead of buttocks. The whole machine looks sort of like a human skeleton, because the legs and hips have joints that mimic the movement of human limbs.
In fact, when you strap your legs into its legs, you can walk, run, kneel, squat, dance, or whatever—the exoskeleton has a range of motion equal to that of a human being. You move, and it moves with you. But once on, it allows a regular geek to haul a 200-lb. backpack as if it weighed as much as a couple of physics textbooks.
Now we're talking.
Let me explain how I got here. In late 2007, a production company called me and asked if I'd like to host The Works, a show for the History Channel. My job, they said, would be to "explain, uh, how things work." During my cable TV stint, I raced lawn mowers in Florida, was shot at with a rifle while inside an armored car in Texas, and—best of all—I piloted an honest-to-God lower-body exoskeleton with the researchers at Berkeley Bionics in California.
And so, on an otherwise perfectly normal summer day, I dropped by a nondescript brick building where a group of former graduate students from the University of California at Berkeley were busy making last-minute tweaks to a dead-black titanium exoskeleton, and they invite me to try it on.
My first impression: The straps are too big. The HULC was built with military money and it is designed to fit army guys. And soldiers have big thighs, apparently. I yank the Velcro straps as tight as possible, then strap my shoes into its open-toed boots. I shrug on the backpack and clasp the chest strap. I am now wearing an exoskeleton. Turned off, the device is heavy; it's like wearing a scuba tank on dry land. But once the researchers switch it on, HULC stands up on its own—with me inside.