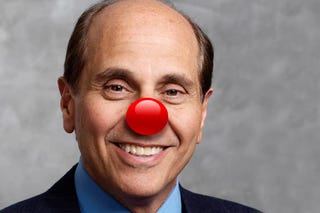 Assclown Number 5: Ed Zander, Motorola CEO/Chairman and amateur juggler, 10 May 2007
How do they deal with us?
Click to viewYes, how would they deal with you now that Motorola is almost dead, Ed?
Assclown Number 4: John C. Dvorak, tech columnist and professional assclown at large, 28 March 2007
Apple should pull the plug on the iPhone… What Apple risks here is its reputation as a hot company that can do no wrong. If it's smart it will call the iPhone a 'reference design' and pass it to some suckers to build with someone else's marketing budget. Then it can wash its hands of any marketplace failures… Otherwise I'd advise people to cover their eyes. You are not going to like what you'll see.
Click to viewWhat we don't like to see is you, John, getting into these bags of hurt all by yourself.
Assclown Number 3: Jon Rubinstein, Palm CEO and former Apple Vice President, iPod Division, September 27, 2005
Is there a toaster that also knows how to brew coffee? There is no such combined device, because it would not make anything better than an individual toaster or coffee machine. It works the same way with the iPod, the digital camera or mobile phone: it is important to have specialized devices.
Click to viewExactly like the Palm Pre, Jon, which is a smartphone and a cheese slicer. Also, there IS a combination coffee making toaster. Two mistakes, one quote!