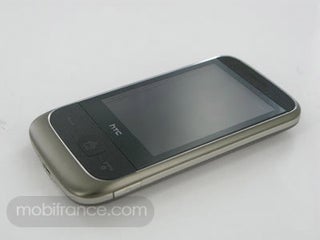 S
Moonlighting under the Touch.B name, more details on HTC's Rome handset have been unearthed in France, including some dishy photos which show the two-tone phone properly for the first time. My, the family resemblance is strong. UPDATE
Is it running Windows Mobile 6.5, Android, or another platform? Engadget is pointing at the lack of buttons as being a telltale sign it's running a "homegrown" OS, but we're rather interested in the addition of the ExtUSB port, considering HTC was meant to be pursuing the microUSB connection.
HTC, if this leaked Touch.B is running Android, we'll be very interested. WinMo 6.5? We'll give it a chance, sure. But we're slightly worried about these proprietary-platform stories we've been hearing. [MobiFrance via Engadget]
UPDATE: Word reaches us that it's running Qualcomm's BrewMP platform, and has a 2-megapixel camera (lame), 3G and Bluetooth, but no Wi-Fi.