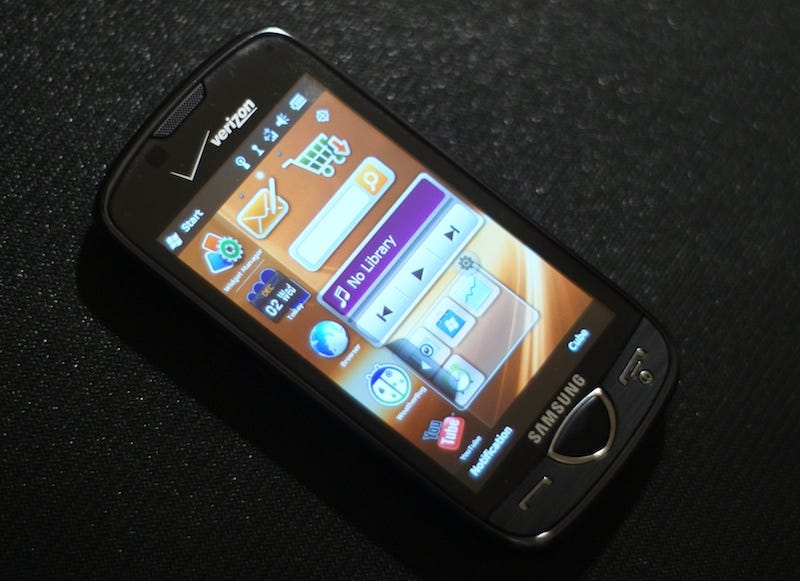 Samsung, stop doing this.
The Omnia II is frustrating from the second you pick it up to the moment you lay it back on your desk, defeated and distraught. There was so much potential here, so much obvious potential. Through a series of bizarre decisions and grating software design, Samsung has managed to squander it. Every. Last. Ounce.
The Hardware Is Decent
This handset is categorically impressive, shipping with a 480x800 AMOLED screen, an 800MHz processor, a 5MP camera with 720x480px video capture, 8GB of internal storage with room for microSD expansion, and FM radio, complementing the standard smartphone trio of GPS/Wi-Fi/3G connectivity.
The screen is beautifully sharp, though the whites—as seems to be common in Samsung's AMOLED screens—often render as slightly blue. It's not that distracting as long as you don't have a whiter screen for reference, and the screen's brightness, sharpness and general color reproduction are satisfying. It's a resistive display, which is still kind of a necessary evil on Windows Mobile; as much as I enjoyed the capacitive panel on the Touch HD2, Windows Mobile 6.5—and specifically, some of its app selection—isn't quite ready to kick the stylus. The screen is no more squishy than any other 3.7-inch layered plastic display.