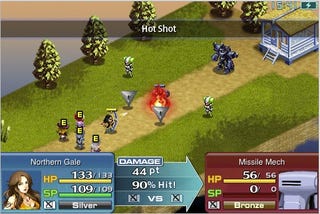 Song Summoner: Jason sez:
Song Summoner was one of the few games released for the iPod-not the touch, but original clickwheel type. It was special, as a game, because it used your own music to procedurally generate enemies. Now, it's on the iPhone.

It's $10, but it's an RPG, which supposedly implies more gameplay hours than non-RPGs. Even when you're not actually playing the game, you can level up your guys by listening to the music that's bound to each character, giving you an added bonus to use your iPhone/iTouch more.
It's a Square Enix title, so production values and story are top-notch. Try the free version first.

Twitter 360: Can't touch a proper client like Tweetie for functionality, but this app's got charm (by which I mean a single great gimmick):
Twitter 360 is the first augmented reality Twitter app to support the official API, and it looks fantastic.

Previously, the only way to grab location data from Twitter was to scrape through user profiles or to rely on some kind of third-party geodata service, with which Twitter users could upload their current locations as individual Tweets. It worked, sort of, but it was janky and awkward. Now that Twitter lets you embed your location in each tweet without taking up any characters, things are different.

You can basically watch your Twitter friends leave a trail of narcissistic word nuggets all over town in real time, rendered on a map or through your iPhone's camera. It's fascinating, if, you know, you're into loose acquaintances' latitudes and longitudes. (Which is an acceptable thing, in this 2009.)
It's $3, which seems a little high considering free apps like Layar will soon provide similar functionality, but the interface is slick, and the concept is straight out of an episode of Beyond 2000.

Knocking Live: Knocking Live for photos was interesting, if a bit narrow in scope—it let you share photos with other users, and conduct slideshows remotely. Useful, sure, but you've sort of got to explain it, you know? Knocking Live, on the other hand, will resonate instantly with most people. It's a video sharing and viewing app, which lets you connect to other iPhones and see whatever their cameras see. It's like slightly less than half of a video call!