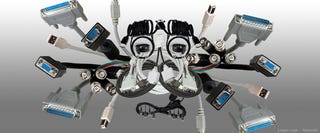 I have a box of cables in my closet. I don't know what the hell half of them are for. What I do know is that I certainly didn't pay several hundred—much less over a thousand—dollars for them. Click to view
Here are some of the most overpriced cables we've encountered over time. Feel free to chime in with any of your favorites that I might've missed (or with justifications for an $1800 wire purchase).
$300: Virtual Dynamics Power 3 Cables
The Virtual Dynamics Power 3 Cable is actually on the cheaper end of this collection of overpriced wires, but to me it's a product straight outta Cable Hell.
Why am I so harsh about something innocently overpriced? Because once upon a time, some guy's cat torn up one of these cables and he discovered that the $300 pile of crap contained only about $15 worth of components.