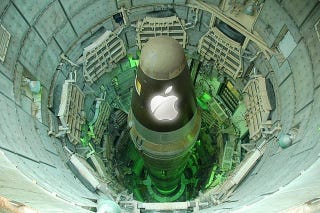 Apple's always been a particular kind of company, obsessed with experiences, controlling them, end to end. But those they've always been centered around the traditional desktop. Until Apple bought Lala. Is Apple taking the internet seriously now?
By "taking the internet seriously," we mean, in one sense, getting more serious "the cloud," which is a digital yuppy euphemism for "stuff stored on honking servers out there somewhere that you access over the internet." A few things—a few acquisitions, really—make us think Apple is eyeballing the internet in a new way as means of service. And we don't mean in the sorta kinda way they run MobileMe, which has been, at first, a flop and now, decent if it were free like all the Google stuff is and not $100 a year.
• The biggest piece is Lala. It remains to be seen how radically Apple uses it to transform iTunes, but the potential for a complete upheaval of the current iTunes model is enormous. Right now, you buy stuff on iTunes, download it to your hard drive, and sync it to your iThing through a rubbery white cable. A LalaTunes would be re-oriented around the web: You buy and manage songs over the web, and could stream your library anywhere, like to other computers, to your phone, directly. You can buy the streaming rights to a song forever, for 10 cents (well, that's what Lala sells 'em for now, anyway), rather than download it. And if this new, de-centralized iTunes is indeed embedded all over the web, it would become the de facto way to listen to music on internet, the same way Google is just how your search.