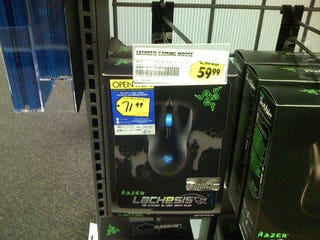 Unwrapping a nice lustworthy gadget only to learn that some crucial part is sold separately can be a major drag. But exercise patience: It's dumb to run to the first open store for HDMI cables and extra game controllers.
Beware of the Upsell
It's something worth repeating every holiday season: When retailers take a hit on TVs, they often make up the difference on ridiculously overpriced extras. You may find a genuine deal or two on a big ticket item at a giant tech retailer like Best Buy, but, as far as I am concerned, you would have to be a damned fool to buy any of their extras and accessories. You know about HDMI cables, but there's a lot more profit-driven accessorizing where that came from.
Even if you already did buy the accessories needed for your gadget gifts, go online and do some calculations before you toss out those receipts. You may want to return them when you see how much you could have saved. As for late shoppers—listen up. Getting batteries, cables, controllers, mounts and other necessities can really nickel-and-dime your holiday budget. Time may be running out to shop, but that doesn't mean you should allow retailers to take advantage of you.
Let's go over this again. Retailers like Best Buy are not above bending you over with sucker warranties and massively overpriced or deceptive services.