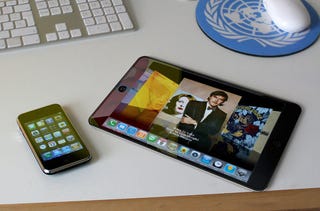 The Apple tablet is almost here. We hear. Actually, we're hearing a whole lot lately. With this exhaustive guide to every tablet rumor, we've got the clearest picture of the Apple tablet yet. Updated constantly.
The Latest News and Rumors
1/27/2010: Hello, last minute, low quality photos of a possible tablet bolted to a table. (An Apple event tradition—remember the iPod nano or unibody MacBooks?)
1/26/2010: The WSJ reports from last-minute negotiations with the publishing industry that Apple's pushing prices of $12.99 and $14.99 for hardcover bestsellers for the tablet.
1/26/2010: Talking to game devs, Kotaku found out that one tablet game from EA "allows gamers to move a map with one hand and do the 'mouse work' with the other, using a combination of multitouch and 'gestures.' "