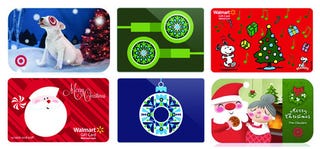 Gift cards have ruined Christmas. An utterly depressing fact: They're the most popular present in the United States. Did you know Blockbuster is responsible for the modern gift card?
The Big Money's history of gift cards is a fascinating timeline of how they spread like a virus, infecting every gift-giving tradition we hold dear: Neiman Marcus actually was the first to sell gift cards, in 1994, but because the retailer didn't quite understand their potential, the cards were kept out of sight and sold only as a novelty item. Blockbuster was the first to display them, starting in 1995, which was the true beginning of the gift card revolution.
Starbucks was the next major innovator, in 2001, with gift cards that worked more than once, so you'd have to keep going back. (Today, one out of seven purchases is made with a gift card at Starbucks in the US.) Which brings us to the present, with gimmick cards like Best Buy's tiny speaker or Target's little camera, or purely electronic ones, like for Steam and Amazon.