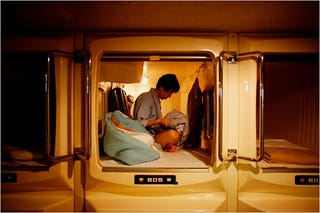 Twenty years ago, Capsule Hotel Shinjuku 510 was a place where Tokyo's businessmen could get a quick night's sleep after a long day at the office. Today it's an apartment building for those left unemployed by the devastating recession.
As Japan's jobless rate creeps higher—it is currently 5.2%, the highest it has ever been—some Tokyo residents are saving money by moving into hotels. Caspule hotels.
We've looked at capsule hotels before and thought it might be fun to spend a night of deep sleep in a futuristic, high-tech pod. But this report from yesterday's New York Times presents the sobering reality of life in a capsule.