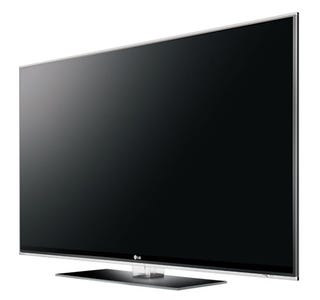 Infinia is LG's new generation of LED LCD TVs, and the 55-inch LE9500 is its flagship. It's the first LG display to be equipped for 3D, and features measurements Heidi Klum would envy. You know, if she were a TV.
With a cabinet depth of just .92 inches and an 8.5mm bezel, the LE9500 is a full LED TV with the thinness you'd normally expect from an edge-lit model. The 55-inch display supports local dimming of up to 240 addressable segments, while the Infinia LE7500 and LE5500 each offer 16 addressable segments.
LG is introducing six new LED LCD series in all: the Infinia LE9500, LE8500 and LE7500, along with the LE5500, LE5400, and LE5300. All of the series are 1080p, with the exception of the LE5300 models under 32", and most come equipped with NetCast Entertainment Access, LG's connectivity suite that's been upgraded this year to include Skype and DivX TV. The LE9500 has an ambitious refresh rate of 480Hz, the LE8500 at 240Hz, and the rest of the lineup sits at a more conventional 120Hz.