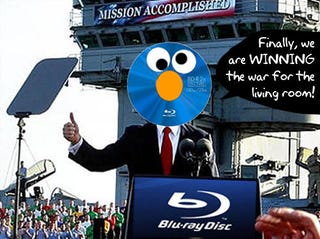 My love for Blu-ray players grows whenever companies add another feature that has nothing to do with Blu-ray. Now any worthwhile player is a home-entertainment hub, replacing cable box and Apple TV alike. How soon till they handle everything?
We looked at the four newly announced flagship players from the four biggest Blu-ray companies, LG, Panasonic, Samsung and Sony. Any self-respecting Blu-ray player today has Pandora and Picasa, and of course Netflix subscription streaming video. They also have some form of pay-per-view movie download service, from Vudu, Amazon or Roxio's CinemaNow and Blockbuster apps.
This year, though, the companies turned up the juice. LG added a built-in hard drive; Sony surprisingly built a remote-control iPhone app. And now all top Blu-ray players will go 3D. Integrated Wi-Fi was a stand-out feature last year; this year it's par.