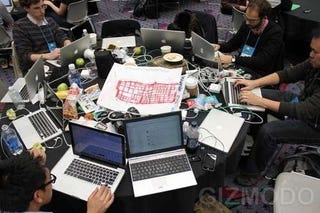 New gadgets are the stars of CES, but there was a ton of gear behind the scenes that was instrumental to our coverage of the event. Here's what kept us alive in Vegas.
Let's get this out of the way: MacBooks. We all use them. Except for Rosa.* It hasn't always been this way—a few of us are recent converts—but the fact of the matter is that Windows Vista couldn't handle the multitask demands of the field—running 3G while switching from Photoshop to a video editor to 15 different open tabs in Firefox, dealing with God knows what Web 2.0-related antics all the while. Maybe Windows 7 can be a great field-reporting platform, but at this point, it's all Mac.
We carried a healthy mix of Canon and Nikon (though admittedly on the high end, Nikon reigned) including the Canon 7D, Canon T1i, Nikon D3S, Nikon D700 and Nikon D300s.