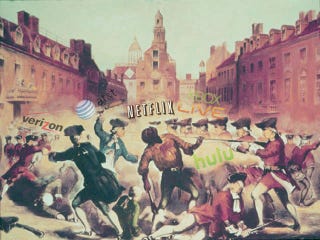 You know what's great? My smartphone puts the world in my pocket. Broadband puts 2,454,399 channels on my HDTV. I can access the internet from a freaking airplane! You know what's unsustainable? Paying for it all.
Here's why: a well-equipped geek will, in our research, have a subscription and service bill total of between 200 and 750 dollars a month.
Let me break it down. You've got your smartphone bill, your cable bill, your home broadband bill. Those are unavoidable expenses—there's not much you can do about them.
Then think about the must-have gadgets on the horizon: a smartbook that requires a data plan. A tablet that'll require Wi-Fi HotSpot access or a 3G dongle. The same for a thin-and-light notebook. And those are just your 1:1 service fees for devices.
Now throw in all of the wonderful content and service subscriptions you either already have or will soon. You've got TiVo, which is better and cheaper than most cable-provided DVRs but still about $11 a month. Netflix, to rent or stream unlimited movies. Hulu's free for now, but we know they're going to start charging any week. If you've got an Xbox 360, you've got an Xbox Live Gold membership. I'm a city slicker with no car, but if I had one I'd need a navigation app that's good enough for everyday use. A free Flickr membership is fine today, but once HD camcorders gain prominence, you're going to want a Flickr Pro membership for high-def playback. And so on.