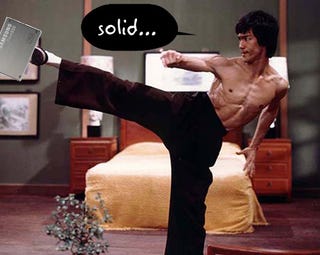 Speed. Toughness. Efficiency. Silence. That's why we want solid-state drives in our computers. But we worry about the zoom-zoom performance degrading over time, and the fact that SSDs might eventually wear out. Here's what you need to know about 'em.
Why Solid-State Drives Are Awesome (Or At Least, Better Than Hard Drives)
To understand what's great about SSDs, let's start with HDDs (you know, old-fashioned hard drives). On a basic level, a hard disk drive works thusly: Inside is a magnetized recording surface called a platter that spins around really fast, with a head that zooms across disk to read and write data—think kinda like a record player, except the head never touches the surface, 'cause that would be very, very bad. So, you can see the problem with hard drives: They're fragile (don't drop your computer) and they're slow to access stuff because the head has to physically move to where the data is.