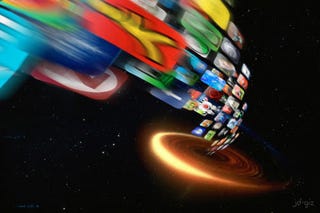 AT&T, Orange, Telefónica, China Mobile, Verizon, Sprint, and several more carriers have announced the formation of the Wholesale Applications Community, which aims to create a viable alternative to Apple's walled-garden approach to apps.
They'll be joined on the hardware side by LG, Samsung, and Sony Ericsson as they attempt to create an open system for app development and distribution. What they lack in momentum they make up for in mass: combined, the alliance services more than three billion customers worldwide.
There's no question that apps are big business, especially for Apple, but to date it's been largely limited to Apple and, to a lesser extent, the Android Market. The Wholesale Applications Community plans to initially use JIL and OMTP BONDI requirements to work towards a common standard within a year. Eventually, they hope to establish a common standard where apps can be ported across mobile platforms.