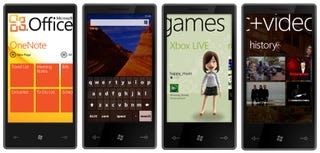 Microsoft's last decade began dark. They seemed to screw everything up. Then, over 10 years, they made Xbox, Zune, and a better Windows. And if the reborn Windows Phone can amplify everything, they've got a shot at being the greatest.
Ten years is a long time. During that period, things got harder, and easier, for Microsoft. While Redmond was plotting a comeback, gadgets got to be a lot more than just hardware. The internet and social bloomed. The world that was in increasing need of software expertise. Just few companies—including Microsoft—had shoulders broad enough to give us the entire setup, fully integrated. That is, everything from email services to mobile hardware to desktop operating systems and maybe even movies, video games and music. Things Redmond always had potential for, but failed to deliver on in a cohesive way.
Today, phone makers like Palm, Sony Ericsson and Nokia are less threatening simply because phones need to work with everything else. Only Apple, Google and Sony have similar advantages, although none in such strong proportion as Microsoft. Theoretically.
But 10 years wasn't a coincidence of round timing, or a target. It's taken this long for Microsoft to get its shit together.
See: infighting. The examples here and here tell of instances where one division (Office) was able to basically tank another division (Tablet PC) because the former refused to make a version of its product for the latter. One group develops a great technology like ClearType, only to have it shat on and ignored for a decade before it makes it to market in products developed by other groups.