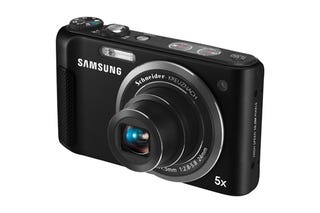 Not to be upstaged by the TL500, the Samsung TL350 point-and-shoot offers its own unique bag of goodies: it shoots RAW, shoots video up to 1000fps, has an AMOLED display, and can capture 10MP stills while shooting 1080p video.
The TL350 sports a 10MP CMOS sensor and a 24mm Schneider lens capable of 5x optical zoom. It shoots RAW and has full manual controls, so seasoned photographers can get down and dirty.
Onto the good stuff: it's one of the first non-superzoom point-and-shoots capable of shooting full-HD, 1080p video. We don't know how it'll actually look, but that's a big deal. Even more bonkers is its new Dual Capture function that lets you snap 10MP stills while you're shooting video, without having to switch modes. That's hot. When you're not doubling up, it has a burst mode in which you can shoot up to 10 full size shots per second.
It's also capable of shooting high-speed video, all speeds of up to 1000 fps, though we'll have to wait and see how it stacks up against the Casio EX-FH100, the forthcoming update to the reigning high-speed point-and-shoot champ. In any event, shooting at 1000fps crams the video down to a teeny 138x78 resolution.