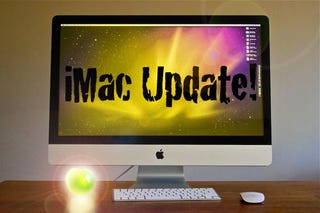 The latest iMac was released 16 weeks ago. Since then, it's been plagued with problems, most notably flickering and/or yellow screens. Today, the saga comes to an end because Apple has acknowledged the issues and offered their support.
At long last, Apple has released a statement to us, admitting the production issues with iMacs—which reader and forum anecdotes imply to be a bit less frequent than before but still very much present at some level—and labeling AppleCare as the proper channel for related complaints.
Apple's Official Statement
"We've addressed the issues that caused display flickering and yellow tint. Customers concerned that their iMac is affected should contact AppleCare."
These two short sentences might not look like much, but the statement is Apple's first open acknowledgment of the jaundiced screen issue, and it identifies the problem as one worthy of AppleCare solutions. (A previous statement made to Bloomberg generalized the problem to all LCDs.)
From the start of these iMac updates, I made a deal that "...if Apple can come forward and openly admit the mistake while providing an adequate solution to their customers, I'll laud them as an example as to how companies can take an unforeseen manufacturing issue and make things right."
Today, Apple met the terms of that deal, and so will we.
The Catch
Of course, just because Apple has "addressed" these iMac issues doesn't mean they have completely ferreted out the problems. (Their diction leaves some room for interpretation.). Since the production halt a few weeks back, Apple's forums seem a little quieter regarding yellow screens, and flickering had already been solved by a firmware update. Still, about 20 people have written us since the production restart—some of them now on their third+ iMac—encountering new iMacs with yellow displays (versus just a handful offering the all clear). That response is slightly more positive than it was in the past, when basically everyone who wrote me complained of flickering screens, yellow screens and a number of other maladies.