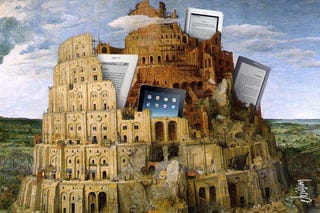 "We use the epub format: It is the most popular open book format in the world." That's how Steve Jobs announced the iPad. And wow, that sounds like all the ebooks you own will just work on anything. Um, no.
The idea of an open ebook format that works on any reader sounds nice. Buy it from any source, read it on any device. In a few cases, it's true, and that open format thing can work for you. But, in reality, right now? You're pretty much going to be stuck reading books you buy for one device or ecosystem in that same little puddle, thanks to DRM. And well, Amazon.
The Hardware
Okay, so the easiest way to put this in perspective is to quickly list what formats the major ebook readers support. (Why these four? Well, they're the ones due to sell over 2 million units this year, except for Barnes & Noble's, which we're including as a direct contrast to Kindle just because.)
• Amazon Kindle: Kindle (AZW, TPZ), TXT, MOBI, PRC and PDF natively; HTML and DOC through conversion
• Apple iPad: EPUB, PDF, HTML, DOC (plus iPad Apps, which could include Kindle and Barnes & Noble readers)
• Barnes & Noble Nook: EPUB, PDB, PDF
• Sony Reader: EPUB, PDF, TXT, RTF; DOC through conversion
You'll notice a pattern there: Everybody (except for Amazon) supports EPUB as their primary ebook format. Turns out, there's a good reason for that.
EPUB, the MP3 of Book Publishing
The reason just about every ebook uses EPUB is because the vast majority of the publishing industry has decided that EPUB is the industry standard file format for ebooks. It's a free and open standard, based on open specifications. The successor to Open eBook, it's maintained by the International Digital Publishing Forum, which has a pretty lengthy list of members, both of the dead-tree persuasion (HarperCollins and McGraw Hill) and of the technological kind (Adobe and HP). Google's million-book library is all in EPUB too.
It's based on XML—extensible markup language—which you see all over the place, from RSS to Microsoft Office, 'cause it lays out rules for storing information. And it's actually made up of a three open components: Open Publication Structure basically is about the formatting, how it looks; Open Packaging Format is how it's tied together using navigation and metadata; and Open Container Format is a zip-based container format for the file, where you get the .epub file extension. When you toss those three components together, you have the EPUB ebook format.
While we've only see EPUB on black-and-white e-ink-based readers so far, like Sony's Readers or the B&N Nook, the capabilities of the file format go way "beyond those types of things," says Nick Bogaty, Adobe's senior development manager for digital publishing. Unlike PDF, which is a fixed page, EPUB provides reflowable text, a page layout that can adjust itself to a device's screen-size. With EPUB, content producers can use cascading style sheets, embedded fonts, and yes, embed multimedia files like color images, SVG graphics, interactive elements, even full video—the kind of stuff Steve promised in the iPad keynote. So, we haven't seen the full extent of EPUB's capabilities, and won't, until at least April 3 and presumably much later. Even if the books you buy from Apple iBook store worked on other devices—and as you will soon see, there's little chance of that—don't count on the coolest stuff, like video, to be somehow compatible with current-generation black-and-white e-ink readers.