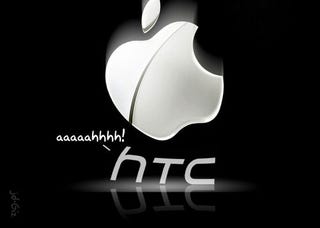 Whoa, Apple just sued HTC for infringing on 20 patents "related to the iPhone's user interface, underlying architecture and hardware." UPDATE: The patents Apple's claiming are incredible. We've got both full filings below. And HTC's comment. They're surprised too!
Update 4: A Google spokesperson gives this statement in regards to what's going on:
We are not a party to this lawsuit. However, we stand behind our Android operating system and the partners who have helped us to develop it.
Update 3 John at Digital Daily's got the ITC filing against HTC as well (which we've now got embedded as well). It lists the 10 other patents Apple's suing over, and spells out all the phones at issue—which looks like basically every Windows Mobile and Android phone HTC makes, from the G1 to the HD2. Nilay at Engadget notes, crucially, that while Apple names a whole bunch of HTC phones, the phones they call out repeatedly as infringing on specific patents are Android phones (the WinMo phones are called out for containing a DSP chip, not for anything WinMo related). Meaning that the bigger issue could be with Android itself, and Google, though it's not exactly clear yet.