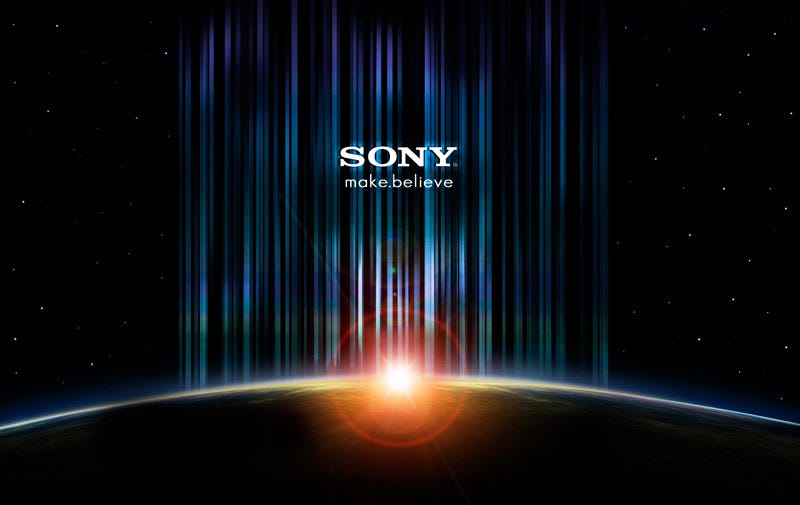 Sony's newest catchphrase, "make.believe," is a fitting reminder that Sony ads make no sense. Laptops take flight, PlayStations become monsters, and pitchmen state plainly that Sony TVs make you better at playing sports. Most of all—look! Play-doh bunnies!
Back when Sony had only electronics to sell, they sold them like no other—to borrow a more sensible slogan that the company recently retired. You bought a Trinitron TV because it was the best, you bought a Walkman because it was the coolest, and you told everyone else they were dumb if they didn't do the same. "It's a Sony!" you'd shout at any half-witted amigo who was reluctant to pay the Sony premium.
Sony worked hard to make you a part of its marketing team. They even went so far as to indoctrinate the children. When the My First Sony line was launched, it actually made sense, because it reinforced what you already believed: that you would buy in and keep on buying. Brand did matter, but only by standing for specific, high-quality products. There were 170 different Walkman models released during its first decade, sure, but this was before MP3 players, cellphones, PDAs, laptops, portable game consoles and pocket-sized camcorders. Besides perhaps a 35mm compact camera, this was the only portable gadget to buy. You knew you were getting it, so choosing which one became a connoisseur's dilemma. Even gorillas knew this.
By the time Sony got into the movie and record business, and the iconic cassette Walkman gave way to the less iconic CD Walkman, the Sony brand became bigger than the gadgets. With the eventual exception of PlayStation, the electronics lost their own identities. That's not to say the gadget well dried up. On the contrary, Sony released more and more, jazzing up tried-and-true businesses with progressive industrial design and catchy-sounding sub-brands. It's not a clock radio, it's a Dream Machine. Sony's brand momentum carried it successfully into new areas where they really could make a superior product. In addition to the videogame consoles, this included digital cameras, portable computers and dog-shaped robots.
But due to arrogance, an obsession with proprietary formats and a lack of stick-to-itiveness—coinciding with the rise of unexpectedly tough competition from Korea, China and Cupertino, California—the magic wore off. The "buy the brand" message lost its grip on shoppers, but to the increasingly out-of-touch executives inside the company, it seems to have become a rallying cry.