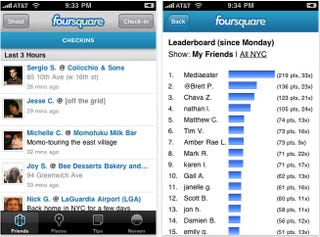 Foursquare: If you've never used Foursquare, here's how it works: Whenever you go somewhere, like a restaurant or a hot dog cart, or hell, your friend's apartment, you check in. Your Foursquare friends can then see where you've gone, and vice versa. You can even become the Mayor of a place by going there enough! It's weird. It's aggressively internet-y. And now, it looks different: the app's been redesigned to be, in my mind, a bit more sensible. Your friends' activity is now displayed in a more feed-like way, and the whole app just feels… different. Still free.

Fourface: Again with the FourSquare! Except this time, your local check-in options are displayed as pretty—though not entirely practical—visualizations. It might not be apparent to new FourSquare users, but serious addicts will understand the value of a little variety in their relentless check-in routines.

FCC Mobile Broadband Test: Do your part to let the FCC understand the state of broadband in the US, while also testing your bandwidth on whatever connection your connected to at the time. Will it result in crackdowns on exaggerated broadband advertising claims? Probably not, but it can't hurt.