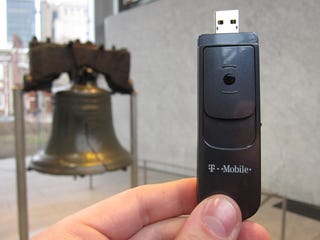 Streaming HD video. Uploading gigantic files. Surfing the web comfortably. These aren't things you'd normally expect on 3G. But T-Mobile's beefed up HSPA+ network, which I tested recently in the first city to launch, handled these tasks beautifully. Simultaneously.
While the other carriers are looking past 3G to 4G technologies—Sprint with its WiMax already up and running, and AT&T and Verizon banking on LTE—T-Mobile is the one doing the most to upgrade the 3G network it already has in place. Overhauling their existing HSPA 3G network to HSPA+ promises theoretical speeds of 21Mbps—three times faster than the 3G we know and don't quite love.
In my testing throughout Philadelphia, the first city to get the upgrade, I found that I was routinely getting triple the speeds we expect from 3G nationally—take a look at our nationwide 3G megatest if you need a refresher—with the HSPA+ network averaging in the high 3Mbps range and peaking at 7.81Mbps in one location.