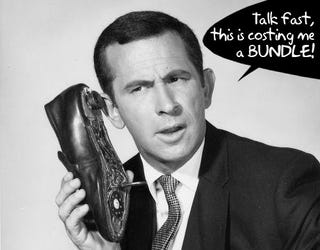 Soon, every internet-connected device will make "phone calls"—Xbox, iPhone, laptop, whatever. Data is data, be it voice, text or video. Carriers should charge for data—more even—but leave off the dumb premiums for voice and SMS.
Every month my phone sends and receives a certain amount of megabytes to carry out everything I do. For all I know, it's a fairly predictable amount. I would be able to study it, only it's split into three incongruous measurements: minutes, messages and megabytes. Two of these no longer make sense, except to the carriers who want profiteer on their mystery. I want more transparency.
Follow me here: Back about 15 years ago, it suddenly became weird to have a computer that didn't have internet access, right? By 2000, everyone's grandma was on AOL. Ten years later, it's starting to be increasingly weird when a handheld digital device doesn't have some kind of wireless data connection. Wi-Fi handles most of our needs—even when we're out and about—but more and more hot gadgets are going cellular.
The flipside is that voice is less and less of a priority. We joke now about how little we use voicemail, that is, how little we rely on the human voice to get messages to friends, reserving it mostly for (older) members of the family. Our phones are increasingly communicators and computers, as Chen observed, yet we still buy a "phone" with a voice plan, and then tack on data service.