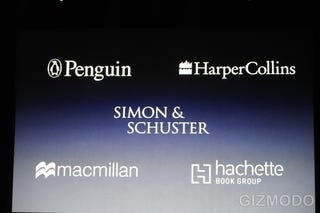 You'll notice a major book publisher is missing from this slide: Random House, the biggest one in the world, actually.
That's because it's afraid of an ebook price war, says the Financial Times.
Which is kinda strange, actually, since it's sitting pretty on the Kindle, and most of the other big publishers are clamoring to move from the Amazon model of selling ebooks to Apple's, precisely for that reason, despite serious retribution from Amazon.