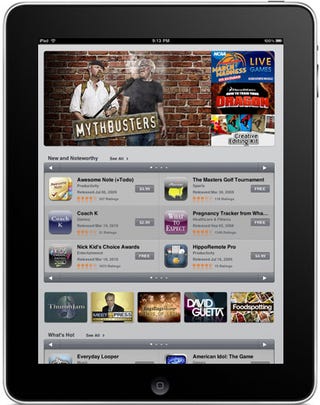 So, one thing that struck us in those leaked iPad App Store screens: The apps are markedly more expensive.
This is not surprising, given the obvious. The iPad is bigger. Its apps, logically, are bigger and more complicated, possibly packed with more features. So they demand more money. But there's a few things that we can tease out, if these leaked prices indeed reflect what we're gonna see on April 3.
Three points:
• A new platform is effectively a new world, so app prices are probably going to shift rapidly as developers feel out what people will pay (probably downward, though devs are hoping against another downward spiral)
• Prices are generally going to start out higher, though a few developers will push universal iPhone/iPad apps instead of double-dipping
• App names and versions are going to get ugly
Let's think back to the very beginning of the App Store. Nobody knew what an iPhone app should cost, so developers felt out the market, with $10 Twitter apps, and the like. Then, over the course of a year, the average prices of apps cratered so that cheap and easy ruled the market, and the App Store economy became a problem for developers trying to compete in a world of "ringtone apps."