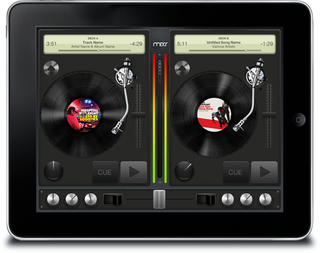 So, sure, the iPad may just be an overgrown iPhone. But this teaser shot of Mixr, a fully-featured, multitouch DJ app, should give you a sense of just how awesome apps designed for an oversized iPhone can be.
The iPhone itself has a whole host of music-making apps, though they're mostly just novelties. But when you start pumping them up for the iPad's 9" screen, they start looking like they're going to be a whole lot more usable.
The previews for Nota, a piano app, looked good, but Mixr is really mouthwatering. The developers are looking to create a professional-grade DJ app, including "cross-fading, equalizing, cue, drag & drop tracks, and full effects such as delays and auto filter." Mixr also has a specially-designed library for displaying all of your tracks, so you can quickly grab and mash up, say, "A Kind of Magic" and "Revolution #9"