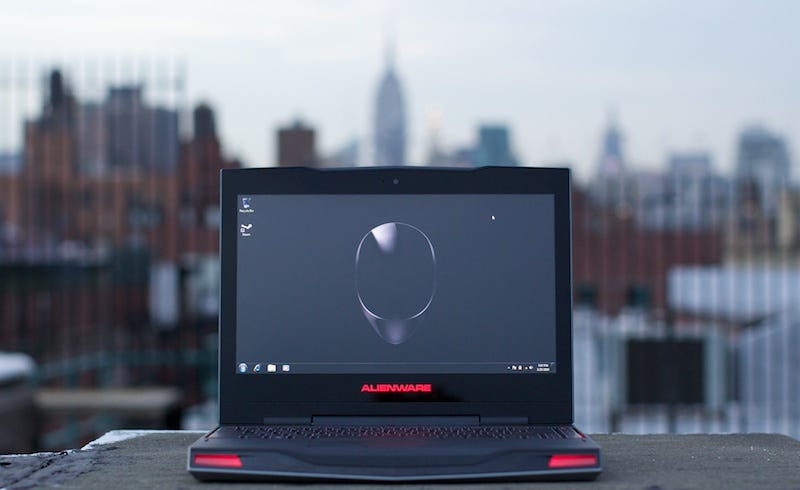 Dell's promise: that the Alienware M11x is the "most powerful 11-inch gaming laptop" around. And they're right! It's hard to imagine packing much more oomph into such a portable frame. Then again, there's a reason Muggsey Bogues never won MVP.
There's clearly value in having a gaming-capable notebook on the go, particularly for frequent travelers or LAN partiers. And even if you're not a heavy gamer, the M11x's switchable graphics allows for substantial battery life during casual use. But a laptop that can accommodate everyday tasks and Crysis equally inevitably demands compromises that you may not be willing to make.
Price and Configuration
The system we tested housed a 1.3GHz Core 2 Duo SU7300 processor (overclockable to 1.73GHz), 4GB DDR3 RAM (800MHz), and a 500GB SATAII 7,200RPM hard drive, a capable set-up that will cost you $1100. You can customize further up to 8GB of RAM and a 256GB SSD, while the base model ships for $799 with a 1.3GHz Pentium SU4100 processor, 2GB DDR3 RAM, and 160GB SATAII 5,400RPM hard drive. Most importantly: Nvidia's 1GB GeForce GT 335M graphics card ships standard with all models.
Design
Hellloooo, Alienware! Everything about the M11x—even the packaging—screams Alienware design. Whether that's a positive or a hindrance comes down to your personal tolerance for pseudo-futuristic panache.
For all its compactness, the M11x has a thickness, blockiness, and heft that clearly distinguishes it from the netbooks it's aping. At about 4.5 pounds, you'll never confuse it for an ultraportable rig. But that sturdiness doesn't always read as quality; the molded plastic case both looks and feels a little cheap. I did, though, appreciate the distinctive touches provided by notebook's tapered front, and the prominent Alienware logo adorning the top.
That logo is repeated when you open the M11x, in the form of an LED-lit power button that rests above the keyboard. Speaking of LEDs: they're everywhere. Beneath the keyboard. Behind two front grills. Under the Alienware branding that occupies the ample bezel below the display. The constant red glow (the color can be adjusted to your preference, and you can set different themes depending on if you're running on outlet or battery power) is a fun effect when gaming, but feels a little over the top when you're just sending emails. Of course, you can always just turn it off.
The keyboard's more than adequate, especially given the limited space the M11x is working with. The key caps are flat and pleasant to type on, though they're close enough together that you can expect an occasional errant stroke. The only truly frustrating part are those narrow arrow keys in the bottom right-hand corner. It's as though the designers ran out of space and decided to squish them in at the last minute. They're not unusable, but they're a headache. The trackpad fairs better: it's amply sized, pleasantly textured, and engagingly responsive.
The 11.6-inch, 1366x728 (720p) display is plenty sharp and crisp, but colors don't quite pop, especially under bright light—you wouldn't want to try using it outside. More troubling about the screen is its aggressively glossy finish. Reflections are strong, which will frustrate gamers who want to get lost in a dark and gloomy landscape and end up just staring at their own reflection.
Of course, when you're at home you can always use an external monitor. I did just that, hooking up the M11x to a 21.5-inch HD Alienware OptX Aw2210 display, which offered a notably improved experience, for the obvious size benefits but also for the cleanness of the image and merciful gloss reduction.
Fortunately—if you do decide to go the extra display route—there are video out ports aplenty. The M11x has everything from VGA to HDMI to Display Port, along with three USB 2.0 ports, two audio out connectors, one microphone input, a 3-in-1 media card reader, Ethernet, and FireWire. No ExpressCard, though, or eSATA. There's also no optical drive. That's the trend in ultraportable laptops these days, and while I understand how a casual user doesn't have much need for one, its absence here prevents you from playing games that require the original disc.
I was pleasantly surprised by the M11x's 5.1 speaker set-up, which sounds equally nice—rich tone, and not nearly as tinny as other systems of this size—whether streaming online radio or pwning n00bs.
Performance
It's important to remember that, thanks to its switchable graphics, the M11x is really two different laptops. When operating with Intel's integrated graphics, you're getting decent (though not gamer-friendly) performance and solid battery life. Switch over to the discrete Nvidia, though, and you're looking at a surprisingly badass rig, albeit one that flames out more than twice as fast.
A note on the graphics switching: Nvidia recently introduced its Optimus technology, which makes jumping from an integrated to a discrete GPU totally seamless and automatic. Curiously, that's not present in the M11x. It's not a complicated process here to switch to the Nvidia GPU and back—just press Fn+F6—but the move causes the screen to go black and requires quitting out of certain applications. It's not a huge burden, but it's frustrating knowing that a better option is out there.