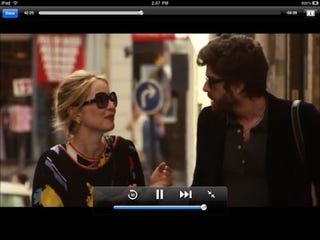 For all we've written and read about the iPad, there's one thing we don't know for sure: How people will use it. Apple and co. seem to think it's going to be your new TV—here's why they're right.
The Old Way: iTunes
Apple's been implicitly pitching every device with a screen as a TV replacement since the iPod video came out, and they weren't even ahead of the curve—young people have been comfortable plowing through TV seasons, feature films and practically any other video content on computer screens for most of the last decade. It was this comfort with watching TV on something that's not a TV that Apple exploited with iTunes TV downloads, which have, since launch, gone from a "who pays for online video?" marginal service to a thing that people—even tech-savvy ones—actually use.
I'd say that the iPad is second to Apple TV as Cupertino's flagship video watching device, but I'm not even sure that's true: In a lot of ways, the iPad is the next Apple TV. Purchasing and watching iTunes TV shows on your laptop isn't exactly complicated, but the tap-tap-watch ease with which the iPad sells you a show then disappears into it will be intoxicating for a lot of people.
The New Way: The Web and Apps
When the iPad ships, you'll be able to download an ABC app, and stream the same content they offer on their website—including full episodes of Lost, for example—for free on your iPad. Soon, CBS will have revamped their website to stream video straight to the Flash-less iPad, using the device's support for the HTML5 video tag. And that's just the tip of the iceberg.
If you have a Netflix account, you'll be able to download a free Netflix app, and stream thousands of films and TV shows. A Hulu app is on the way. Network streaming apps like Air Video will let you watch your torrented/camcordered/archived collection, stream straight from your computer. Video sites like Funny or Die have already started shifting to iPad-compatible streaming formats.