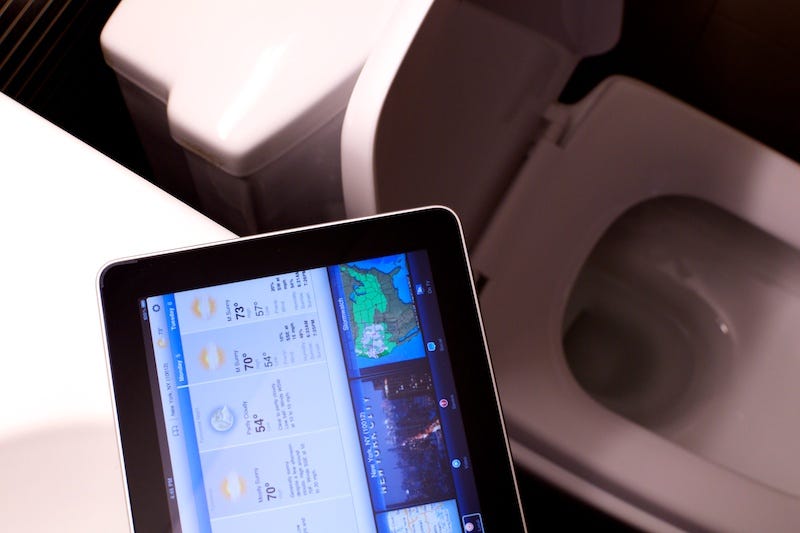 Besides using the iPad in bed and on the couch, you know the reason you bought this thing was for toilet entertainment. Verdict: It's decent but distracting—and sometimes dangerous.
Setup
Here's half the problem. In order to get your pants down for a #2 session (or zipper down for #1, if you're a dude), you have to use both hands. That means you need to place the iPad down somewhere. Not every bathroom is constructed with enough flat surface space to safely hold an iPad while you de-pants. The back of the toilet is fine, if slightly dirty, and the toilet lid is another option if you want to remove your clothing first, pick up your iPad, and then reposition yourself.
The top priority is to not break your iPad, though not getting it dirty comes in a close second. Like luggage in an airport, any time the iPad leaves your hands means it's time to worry. Overall, not so good.
Awkward, dangerous
Standing use
Stand-up #1 use isn't too bad, but you're limited to holding the iPad with one hand only, which means you can only read, not interact, with whatever's on screen. Consuming things, like Netflix or iBooks (the latter of which you can set to advance pages when you hit the left border) makes the most sense. But the iPad is heavy and slippery, so this is undoubtedly a gamble every time you pee. Nevertheless, you're a man (presumably), so grab hard and live dangerously.
Too heavy for long-term one-handed use, but you're not going to be engaged for a long time unless you just came home from a bar or a Nintendo Wii competition.