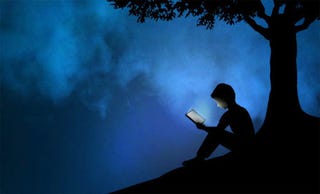 The iPad may seem like Apple's move to cockblock Amazon in the Ebook Wars, but Amazon's Kindle app makes it part of Amazon's larger ebook ecosystem. In many ways, the iPad is the best Kindle yet.
This argument suddenly (but not surprisingly) stopped being about e-ink readers, and Amazon is the only one of the reader makers set up to compete with Apple. Apple will fight Amazon by growing its iBooks store, and by promoting compatibility with the ePub standard. While this kind of competition is good news for consumers, it might not mean victory for Apple, especially given how well Amazon is already playing on Apple's home soil. Not to mention everywhere else.
Amazon's Bookstore Is Better
When it comes to bookstores, nobody yet has missed the obvious issue: Apple launched with a skimpy selection of books. According to what most pundits quoted, there are 60,000 books in Apple's bookstore, while Amazon is selling over 400,000. Though that doesn't say much, it's terribly revealing when put to practice.