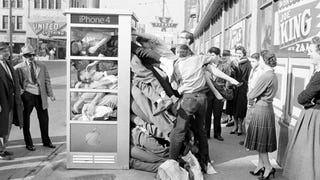 A month ago, the world saw Apple as equal parts North Pole and KGB—unpredictably innovative and notoriously secretive, they were a force wielded by nothing less than magic. Then, an elf got loose.
A month ago, Cupertino was a sacred land of living hyperbole. Journey long enough across its infinite loop, and you may run into Steve Jobs. Perpetually donning a black mock turtle—incidentally, the preferred color of magicians, assassins and melancholy artists alike—his brain was sure to be full of secrets...secrets that would successfully elevate mere bits of circuits and aluminum to cultural phenomena.
Jobs may have been an ordinary guy at one time in his life, but it'd been years, maybe decades, since anyone could view the man with mortal objectivity. Some saw him as a genius and others, self-parody, but nobody just saw Steve for a long time.
Logic tells us that Steve Jobs (and designer sidekick Jonathan Ive) could never have dreamed up and built these new phones and computers alone, but beyond all the cars parked around the Cupertino campus, there was little public evidence to question this line of thinking and millions in marketing to support it.
But in trust, the force of will of two men wasn't enough to keep Apple's magical beans from spilling. In fact, an entire suboperation of moles at the Cupertino campus was committed solely to keeping employees "loyal" and quiet.