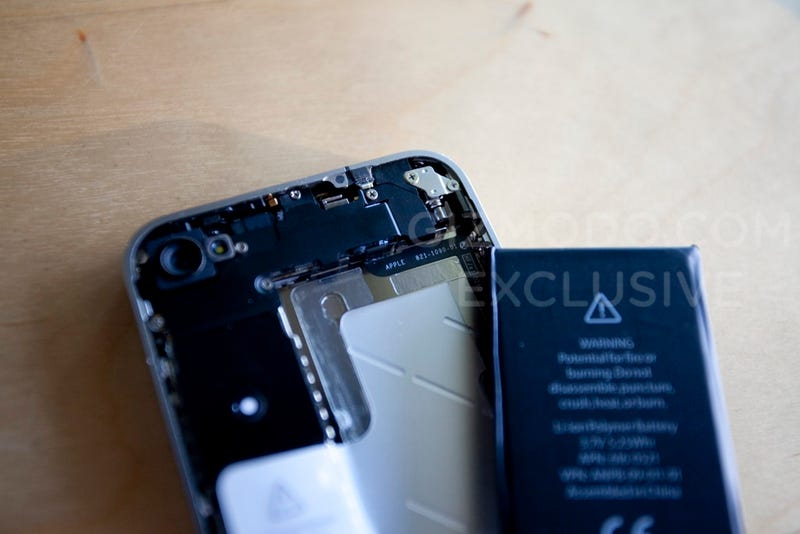 We took apart the next iPhone.
There are a number of interesting facts gained from the dissection, the most important of which is more concrete confirmation (as if we needed any more) that this phone is from Apple. There are three separate places, inside the case, where APPLE is written prominently.
Upon unscrewing the bottom two screws—just like with the 3GS—you can use a suction cup and pry off the back portion of the phone, not the front like on iFixit's 3GS teardown. Once open, you'll notice that the battery takes up around 50% of the phone, give or take. Very impressive.
Diving deeper becomes much trickier. There are a total of around 40-50 screws inside the phone, positioned at various angles that are almost frustratingly impossible to get to. Components can be removed and detached from other components. There are a handful of pieces like this. But you don't know which ones are meant to detach, because you don't have the manual. Once you get all the screws off and pry off the pieces that connect the micro-SIM, the camera, the on/off switch and volume buttons, you're ready to access the brains.
The main logic board is one very weird piece of this puzzle. Unlike the iPhone 3GS teardown, which revealed a large logic board along with another part down by the dock connector, this design only has something maybe 1/3 of the size, along with one or two extraneous parts. Basically, the guts have shrunk drastically.