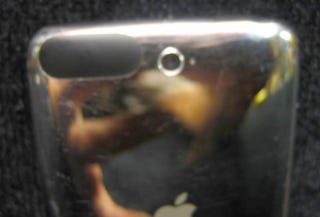 Or, to precise, what were these apparent test devices doing on eBay, before they were unceremoniously yanked? And are they real?
Speaking to the second question, the answer is a firm probably. Here's the evidence:
• The device is running the iPhone OS diagnostic/test software, similar to what's seen here.
• It appears to function, though there's no proof that the camera works
• It bears "DVT" markings, which are known to mean "design verification test," and be plastered on early prototype hardware
• It look feels right—the markings are clean, the camera installation is convincing, and Apple's inclusion of a camera in the last iPod Nano implies that they're keen to put cameras in as many places as possible. And hell, they've even got a patent for an iPod Touch with a camera. It's about time, really.