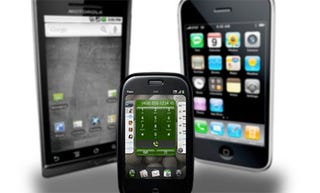 Today's casualty is Caitlin Spaan, veep for Palm's carrier marketing. It's a comparatively small loss compared to when their Senior VP of software bailed two weeks ago, but it amplifies an increasingly obvious message: Palm is in a death spiral.
Aside from these public destaffings, the last few weeks saw Palm going through the motions of, well, dying:
• Despite expanding handset availability on Verizon, Palm couldn't push nearly enough phones last quarter to quell doubts about its future. A buyout seemed inevitable, or rather, necessary.
• Buyout rumors! Google; HTC; Lenovo; Huawei.
• The field of buyers, sadly, thinned to one.
• Jon Rubinstein said some sad-sounding things.