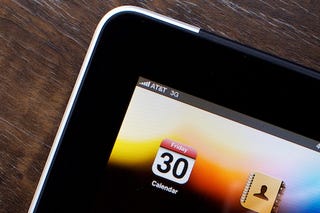 The iPad 3G is the iPad I've been waiting for. It's got two things the regular iPad doesn't: 3G internet from AT&T and assisted GPS. The results we got from testing might surprise you, I think. Updated.
3G Speed Tests
The real story with iPad 3G isn't the numbers, which you can probably predict. The iPad's 3G speeds are solid, great even, and the gulf between loading pages over Wi-Fi and 3G is predictably vast. But even though the performance of the iPad and the 3GS over the same AT&T 3G network were almost identical, the iPad felt slow, mainly because of how much faster the iPad's CPU can render pages. It was waiting for data that was just trickling in.
Still, it's totally usable, and nothing quite beats the feeling of ubiquitous internet on a device like this.
We used the same battery of tests we used in our coast-to-coast mega 3G test: Speedtest.net's iPhone app, for raw bandwidth and latency; the Hubble image index at Wikipedia, and Gizmodo for pageload; and Wikimedia's Abell 2667 galaxy cluster photo, a 7.48MB JPEG. Between each page test, the browser cache and history is cleared. In terms of reception, signal strength has seemed equal to an iPhone 3GS at all times.