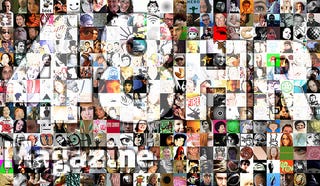 Can you make a magazine in a weekend? Of course you can. But can you make it good? That's the question 48 Hour Magazine is trying to answer, using online media tools to make an old-school rag in two days.
I talked to the collaborators, a group of San Francisco-based writers and creators who have worked in and around the media industry, old and new, for years. I asked them all the same simple questions in a fairly limp attempt to get some nice quote. I should have guessed—these guys have a lot more to say about their project than could be easily decoupaged into a 800-word inverted pyramid.
In the spirit of the project, I've taken their responses and attempted to weave them into a cohesive conversation—in 48 minutes.
And...go!
* * *
Joel Johnson – What's the lesson of 48 Hour Magazine? Are you guys trying to show the big magazines something?
Sarah Rich (former senior editor at Dwell, co-founder of The Foodprint Project and co-author of Worldchanging) – I don't know if I'd say we are trying to show the big magazines something so much as trying to demonstrate the potential to produce an excellent media product using "new tools"—meaning online collaboration, crowdsourcing, web-to-print production systems. I love traditional magazines; This isn't an attempt to dig their grave, it's just an example of the possibility of something new.
Mat Honan (Giz contributor and Wired contributing editor, who made Barack Obama is Your New Bicycle in four hours) – We're not trying to show established magazines a way out of the wilderness, but I do think we all have aspirations to try to make something new and different work in terms of the way magazines can be produced and financed. We were all pretty inspired by MagCloud's possibilities, and in particular Strange Light—the magazine Derek Powazek put together on the fly from the Australian dust storm. It was why we approached him before we got this off the ground and convinced him to come onboard. We thought that by using our networks on Twitter and Tumblr and that horrible piece of shit Facebook, we could likely get a lot of contributions in really quickly. And because it's print-on-demand, we wouldn't have to run around trying to find advertisers first, or figure out what our print run was going to be, or any of that other bullshit that traditionally makes launching a new title so cost-prohibitive.