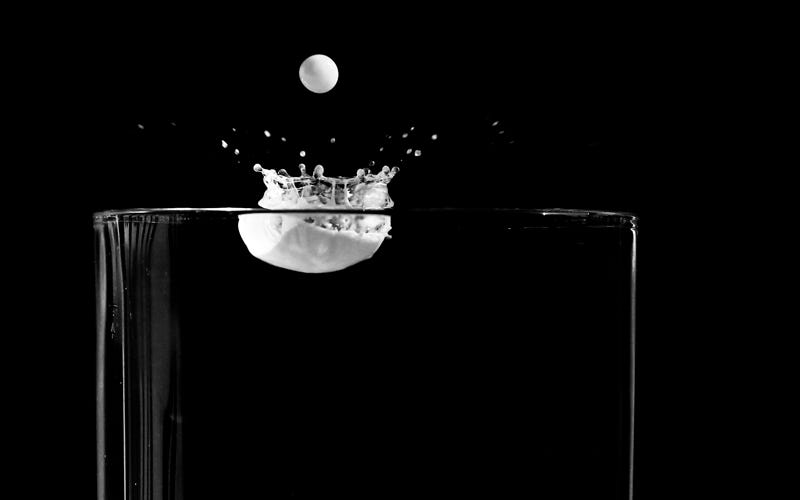 For this week's Shooting Challenge, we've brought in a special guest judge. Martin Waugh is not only a master of catching water drops in flight; he's oft-labeled the inventor of the "drop collision" shot.
He's appeared discussing his craft on the Discovery Channel, and you can find his work in museums and advertisements alike. (Of course, you could just head on over to his website, too.)
We didn't always agree on our favorites, but that's what makes this week's results so much fun. So with no further ado:
Lead Shot—Wilson Pick
Taken with a Canon 550D with a Sigma 50 mm lens mounted on a tripod.
A glass of water was placed on a black surface so to not reflect light upwards, with a black tshirt as background. Taken in full sunlight with the background angled so it was shaded to make it darker.
Took a table spoon of milk and started pouring, voila.
Shutter: 1/2500
Aperture: F5.6
ISO: 400
-Emil Brikha
Wilson Pick

Shot with a Canon 5D Mk II at 58mm 1/200 f22 ISO 200. I wanted to create something a bit surreal, so I placed a spiral notebook under a clear glass baking dish filled with 1/2 inch of water. It was illuminated with an off camera flash set at 1/4 power. I rested my right hand holding the pencil on the edge of the baking dish, whilst holding a plastic bag filled with water dripping precariously close to all the electronic equipment in my left hand. The camera was triggered by my right foot from a remote trigger laying on the ground. This was my first time trying to shoot a water drop and it took about 500 tries.
-Garry Kline
Wilson Pick

Here is my entry. I chose to shoot an actual water drop, pre-splash. Please consider this as a submission.
Camera: Canon T1i
Standard 18-55mm Lens
ISO 200
F.8
1/2000
Canon 430exii
I tried to capture a perfect water droplet pre-splash. I took the flash off of the camera using an ettl-cord, and pointed it into the sink. The result was distinct scene lighting behind the water drop, and an even crisper, brighter reflection in the water drop.
-Justin Alexander Veenema
Wilson Pick

Nikon D300s
Nikkor 150mm F/2.8
1/125, f/8, ISO 200
Outside on the patio with natural light, citronella candle in the background provides the red. SB-900 camera left fired from SB-900 master unit on D300s.
Cropped in Lightroom, sharpened in Nik Software RAW Output Sharpener.
-Chuck Pepper Jr.
Wilson Pick

General Set-up: Colorful striped background behind a bowl filled with water and a camera on a tripod in front of it.
Lighting: Flash hitting the background behind the drop
Camera Settings:
Camera Model: Canon EOS REBEL T1i
Tv( Shutter Speed ): 1/200
Av( Aperture Value ): 8.0
ISO Speed: 100
Lens: EF100mm f/2.8 Macro USM
Focal Length: 100.0mm
-Ivan Grinkevich
Wilson Pick

Canon 5D Mark II
100mm f/2.8 Canon Macro Lens
580EX Flash with a Fong diffuser
Pocket Wizard Mini TT1 and Flex TT5
My daughter and I balanced a blue plastic bowl filled with water between two chairs and placed the flash under the bowl pointing up. Then we dripped drops of Grenadine into the bowl and tried to time the shutter to coincide with the drop impact time.
-Jesse Zibble
Waugh Pick

Canon 5D Mrk II f/22 B (cable trigger)
Canon 180mm macro
580EX II ext flash
430EX ext flash
MT-24EX twin flash
Home-brew, PIC microcontroller laser/photocell trigger
all flashes set to 1/64th power for shortest flash duration
with laser trigger beam ~2.5" above drop, 30-200ms trigger
delays used for various different shots
[Waugh: Good use of "bright-field" lighting to highlight the edges of the water with a dark rim. And the bright primary colors happily contrast with the black and white subject.]
-Randy Heisch
Waugh Pick

Equipment
Canon 7D, 12mm extension tube, Canon 50mm F/1.8 lens, Canon Speedlight 430EXII (to the right), Opteka EF600DG-C (to the left), Shutter speed: 1/25th of a sec, Aperature: F11, ISO: 100, Focal length: 50mm, Whole milk, Mug, Bag with a hole in it, suspended about 1.5 feet above the mug, Rear background is a blue felt piece of fabric
[Waugh: Perfect symmetry and balance. The white-on-blue has the appeal of a Delftware cup.]
-John Lavin
Waugh Pick

Canon 50D
Sigma 70-200mm 2.8 II
f/9
200mm
1/200 sec.
ISO 400
Wireless flash using generic triggers from ebay.
I wanted to create something vivid and playful and that's what I came up with. I'm glad I got a chance to get my camera out of my bag.
-Aurimas Liutikas
Wilson and Waugh Pick

The technique is simple :) We have one drop that falls in water and rebounds and the second is coming down hitting the first. You have a link for a little example.
nikon d90 at 2 second with f:16, 2 external metz flash connected to a device that control the timing . so the flash will frozen the moment.
[Waugh: Good capture of a drop collision. Very nice depth of field and the point of focus is well-chosen. The colors stand out nicely against the gray background.]
-Silviu Bondari
Wilson and Waugh Pick

This water drop shot was created by filling up a casserole dish with water and then photographing droplets from the kitchen faucet so I could easily control the flow and timing of the droplets. I used a tripod-mounted Nikon D90 with an AF Zoom-Nikkor 35-70mm f/2.8D lens and an external Nikon SB-600. The flash was bounced off two red and blue pieces of paper to color the water. Focusing was done manually. This was one of 300 pictures taken over a period of an hour.
Exposure information (manual exposure): 1/125 second, f16, ISO 200, 70mm focal length. Flash exposure: 1/16 power.
-Mac Mirabile
Wilson and Waugh Pick

The Photo itself is called "... With Milk?" and features a small milk drop in a cup of coffee.
It was shot using a Pentax K20D with the DA 55-300 f4.0-5.8 ED, using a Metz 48 AF-1
as a Slave flash from the side.
I set up the camera as follows:
1/160sec, f11, ISO-400, Internal Flash -2EV, Metz +3EV
I used a small styropor board with white paper glued on it to preserve the white background. Now I set up the Metz at exactly +3EV as a Optical Slave Flash and put it on a bunch of books, on the left side of the cup. The Internal Flash must be set at about -2EV, it shouldn't bring any kind of power to light the picture. After a bit of testing, I found that the drop of milk, falling off from about 50cm over the cup, made the best results.
-Moritz Schwertner
WINNER - Wilson

Milk drop
Canon 30D
Canon 100mm f/2.8 Macro
f/10 1/250th
Canon 430EX flash
[Wilson: Above a whirlpool, a perfect, white marble floats unperturbed by gravity. But what makes the shot for me, for whatever reason, is the blurry milk bubble in front.]
-Chris Andrews
WINNER - Waugh

Black casserole bowl filled with water. A yellow placemat hung up behind the bowl. Shot with a Canon Rebel XS using a kit lens (28-105, f3.5-4.5). With the camera a few inches above the bowl & as close as possible (minimum focus range is like 18 inches i think), I zoomed in as much as possible, and opened the aperture as large as possible. Turned on the flash & set it to fastest shutter speed that I could (which is only listed as 200 with the flash on, but I'm guessing the flash duration's shorter than that, and there was almost no other lighting on in the room...). Kept ISO at 400 to avoid too much noise. Set the timer to 2 seconds and used a water dropper... Repeat...
[Waugh: A classic splash formation (this stage in the drop life-cycle is often called the "spike"). The use of negative space teases the eye and lets the ripples contrast against the undisturbed surface. And the choice of color echoes the smooth waves.]
-Eric Kornblum
Gallery 1 (single page view)