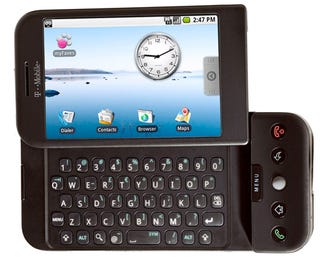 Being a day-two customer of the G1, I know the plight of slide-out QWERTY Android-lovers well. WHERE ARE OUR GODDAMN SLIDEY-ANDROIDS, HTC?!
I don't mean to be angry. I'm just tired of seeing the stunning slew of Android phones come out of HTC HQ, and thinking "that Legend looks nice...shame it doesn't have a slide-out keypad though."
If leaks concerning T-Mobile's Project Emerald are anything to go by, we might just get lucky, chums. TMONews is claiming that a "Nexus One-like device" is on the way, only with Android 2.1, HTC Sense, and potentially a Snapdragon processor. It might even be under the Sidekick brand, with the model name "Twist" being bandied about.
Interestingly, a front-facing camera has also been mentioned, following the EVO 4G.