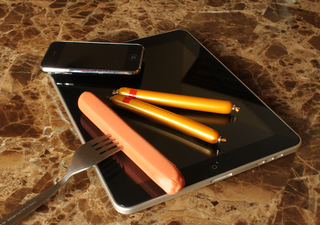 This review was typed using two sausages on my iPad.
Wait a Minute! Why Sausages?
Sausage finger puns aside, meat-shaped iPhone and iPad accessories don't exactly seem like the most natural thing. The whole trend supposedly started with a some Koreans who decided to use regular sausages to play games on their iPhones. You see, unlike plastic sticks or other random objects, sausages actually work on capacitive screens—just like your fingers. CaseCrown's styluses give you the weird sausage experience without making your gadgets smell like beef.
You see, these are no ordinary sausages, but rather special sausage styluses that leave no nasty fingerprints or smears on multitouch screens. They may look silly, but they work surprisingly well...though they are not recommended for eating. I didn't bother testing the claim regarding edibility—mostly for my own sake