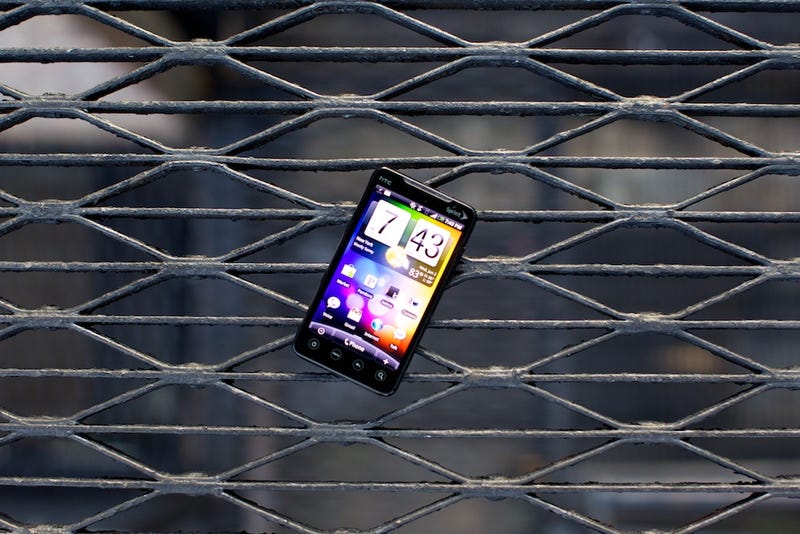 You know that scene in Iron Man 2, where Justin Hammer asks Rhodey which weapons he wants inside War Machine—and Rhodey says "all of them"? That's exactly how the Evo 4G was born. Somebody said "everything."
The Evo comes out tomorrow (6/4) on Sprint for $200 with 2-year contract rebate.
4.3-inch, 800 x 480-pixel screen. 4G WiMax with wireless hotspot powers. 8-megapixel, 720p video camera. Front-facing camera for video chat. 1GHz processor. HDMI out. Kickstand. The Evo's dossier reads like a phone nerd's sticky back-of-napkin fantasy, which is precisely the point. The Evo is an icon, manufacturer HTC gleefully tugging at customers' hems: Look what we can do!
The Evo a beautiful slab. Being the biggest, fastest and strongest—and boastfully so—is a rare trait, marginalized by the Apple-born-but-increasingly-popular mantra that guts don't matter, or at least that you shouldn't talk about them; that the experience should come out of a magical black box. The Evo is HTC's response to that. It's pure guts.
This Is a Big Phone
You will either love how ridiculously palm-spanning a phone that is well over four inches diagonally feels—or you will find it awkward and kind of silly.
This is exactly how we're split on it. Jason really adores the size, yet he is a power nerd. I think it feels like a weirdly retrograde idea of the future, what some people expected smartphones would evolve into before the iPad entered into our collective consciousness—a mutant phone/tablet thing that's just big enough to do everything. It's just a really big phone that will polarize the buying public.
I mean, when there's a kickstand, a statement is being made.
It's heavy, too, almost in the way you'd expect an armored suit to be. The way it's sculpted—aggressively functional, like War Machine, with little Tony Stark flash—emphasizes unseasoned power. You might expect the back of the phone to be cut from metal, but it's fit with a rubber-esque finish. (We are still talking about HTC here.)
The build quality is nonetheless respectable, down to the kickstand—it'll survive a tumble or three. (There is light leaking through the seam where the top of phone meets the frame, netting a few demerits.)
Given that the camera lens protrudes from the back of the phone, don't expect it to hold up as well. It will be scratched and scuffed within a week.
The screen makes you gasp a little when you turn it on and it glows for the first time. As it lights up, the enormity suddenly becomes tangible; you're struck by the brilliance of the screen itself. It's not just big, it's super bright and colorful, with a pleasantly wide viewing angle. (Crucial for kickstand video watching.) Since it's a regular LCD it's actually usable in the sun, not the more fashionable AMOLED, seen in the Nexus One, Droid Incredible and Zune HD. But it's not tremendously better than an iPhone's screen, either.
What makes the experience of the 4.3-inch screen transformative is that it gives you breathing room. Twitter feeds feel less cramped. Web pages are roomier, so there's less panning and zooming. It's ridiculously easy to type when the keyboard is so large. Videos are just big enough that—what do you know—a kickstand doesn't seem absurd. After a while, the Evo's screen doesn't seem that big—it's just that other cellphone screens feel small.
If only the battery was a fuel cell, powered by ambition. It might be up to the task of powering this juggernaut.
My main phone at the moment is a Nexus One, so I'm pretty familiar with managing Android to make it through the day. It's oddly a struggle to make the Evo last that long—on a weekend, I had to recharge by 2pm—and I had 4G turned off. Expect to plug this thing in at work before you go out at night if you want a phone that isn't dead by your second drink.
Super Speed Data
Everything you've read makes the Evo sound like yet another HTC Android phone, albeit on a grander scale. What makes it a phone truly worth considering is that it runs on Sprint's 4G WiMax network (which unavoidably adds $10 to every plan, whether or not you live where you can take advantage of it), accessing the web with speeds comprable with those of low-end home broadband.
Additional, the Evo can serve as a wireless hotspot, allowing "up to eight" of your devices to utilize the network just like they would Wi-Fi at home—if you pay another $30 a month. ($70-a-month for data may sound expensive, but realize that Sprint's OverDrive 4G hotspot runs $60 a month, and all it does is deliver internet.)