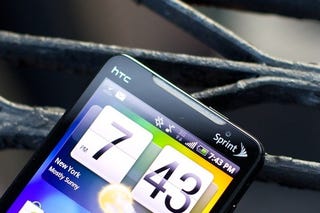 If the Evo has a flaw, it's battery life. While run time's impressive as a wireless hotspot, it's unoptimized in every other regard. MobileCrunch assembled a list of tricks to extend battery life. Combined, they'll buy you 2+ more hours.
(If you want those tips, head to MobileCrunch. I'm just here to rant a bit.)
Testing the Evo with Matt for the review, I was astounded by 4G—Apple may claim that the iPad is magical, but let me tell you, 4G on the Evo really is. AT&T's 3G may have gotten you burned at the stake once upon a time; with 4G, the mobs would have hunted down your family, your friends, your pets and charred to ash not only all of them but any object they'd ever brushed against in their entire lifetimes.