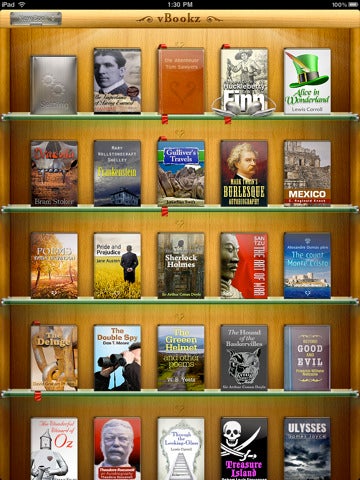 Near my iPad's iBooks bookshelf sits a new vBookz bookshelf. It looks awfully similar, but it's much better stocked: It has every public domain novel and text-to-speech tech to read them aloud. But a true audiobook text-to-speech is not.
As far as iPad ebook readers go, iBooks is probably the most beautiful one, and in terms of design there are far worse looks an aspiring reader app could ape. And that's just what vBookz did: it took iBooks' look, adding a few flourishes like ribbon bookmarks, and gave it the gift of text-to-speech.
For those who didn't follow Kindle text-to-speech saga, here's the jist: authors didn't think that buying the rights to read their ebooks necessarily gave readers the right to listen to those ebooks. It got messy. But vBookz sidesteps that whole business by trafficking only in public domain books (the ones compromising Project Gutenberg).