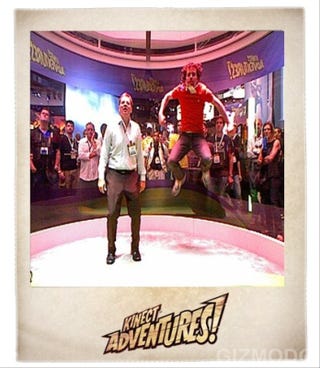 I can't remember the last time I jumped so high. Kinect Adventures looked so lame in Microsoft's press conference just two days ago. But now I find myself leaping and lunging like a stuck lamb to win. I'm frolicking.
Hop to go faster. Dodge left to slide by a bumper. A glance to my right to eye my competition who, a few moments before, had shared a raft with me as we negotiated a path down a river, leaning and jumping in tandem—another unexpectedly enjoyable experience.
My heartbeat quickly accelerating, I realized something: The Wiimote rewards gamers' proficiency at exercising the least possible physical exertion—indeed, if you get too frantic the Wiimote can stop registering your motions altogether—while with Kinect, I found myself exaggerating everything.
The experience of Kinect Sports is much the same—I underestimated the title's fun until I actually tried it out. Less like Wii Sports than Mario & Sonic at the Olympic Games, a track-and-field-style hurdle game requires me to pump my knees high into the air, then jump at appropriate times, then pump my knees some more. While Kinect's lag means I have to make my leaps earlier than expected, the frenetic and earnest competition (a testament to Kinect's accuracy and Kinect Sports' game design) keeps it fun.
There's something very special about using Microsoft's Kinect system, something that separates it from every other combination of software and hardware I've ever used. Kinect adapts and accommodates the user. I'm not learning it; it's learning me.
Maybe I'm tossing around the word "learn" a bit too liberally. Kinect actually works because it's already learned how humans move thanks to Microsoft's (Prime Sense's) research—intelligence is built into the box before I step in front of it.