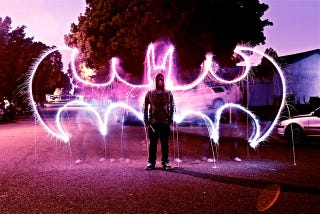 Light painting...a body. This idea may sound a bit esoteric at first, but hear me out and I can almost promise we'll achieve the most memorable Shooting Challenge results yet.
The Challenge
Photograph a person who is somehow augmented by light painting. What I mean by that: glowing exoskeletons, cartoony heads and psychedelic auras. (I mean it, someone please make an awesome exoskeleton.) Put differently, you should reimagine the portrait with light. The light painting shouldn't be your stereotypical someone spelling a word or neat glowing orb in the background. The light should be part of a subject.
Also, I should also clarify, we're not looking for the use of light painting that's more subtle in which you can use a flashlight to control general exposure in a scene. We're looking to see trails of light.
The Method
Light painting is an specific version of long exposure photography. You'll want to set your camera on a tripod and expose shots for 10-30 seconds or more while (probably another subject) draws with a light source, like a flashlight, LED, candle, sparkler or glowstick.

Freddie Wong, maker of this epic light painting battle, offers very practical advice without getting too focused on technique. His best tip? Have those doing the painting (the non-subjects) wear black to blend in.