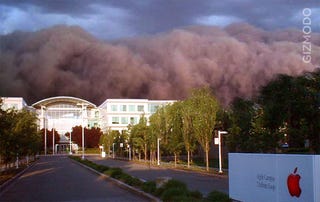 Dave Winer—the father of blogging and the RSS—has published this article on Apple's current situation. His prediction: The Reality Distortion Field bubble is "about to burst" and Apple is going to suffer the ugliest shitstorm you've ever seen.
I've been lucky to be in the middle of a number of Internet shitstorms in my life. They've been absolutely surreal, unfair, cruel. No one will listen to your side of the story. People you thought were friends join the pile-on. Etc etc. And then it passes, and eventually you go back to life as it was. I don't want to re-litigate any of them, please — but I just want to say I know what it's like.
Now Rex Hammock, who I admire as a friend and as a pundit, wrote a piece about Apple and the crazy situation with the iPhone 4. He's right, but he doesn't quite go far enough in his analysis.
I don't think the problem is with the iPhone 4. I think what we're seeing is Apple's charm wearing off. The Reality Distortion Field bubble is about to burst. Their run as the Exceptional Company is about to end. And they're going to be the last ones to figure it out. And it's going to be the ugliest shitstorm you've ever seen.
Why will it be so ugly? Because Apple's hype has been steadily inflating since 1997 when Steve Jobs returned, and it's never taken a dip. They've risen from being written off to being worth more than Microsoft.
It's also going to get ugly because we're fed up with corporations. It was remarkable that there were no ads for oil companies on the World Cup broadcasts (at least the ones I watched). Can you imagine listening to a pitch from Exxon or BP saying they are working for our energy independence, or to clean up the planet or all the other lies they were telling us while they were taking huge unnecessary risks with the ecology of the oceans? They're smart enough to know now is not the time to be spouting bullshit at us.
It will be ugly because Apple is going to let it get ugly. Because unlike the oil companies they have no experience with PR disasters. When I read their first public response on July 2, the one that said the problem was the meter measuring the strength of AT&T's signal, I couldn't believe this was meant to be taken seriously. It's the kind of story The Onion might have written on a bad day. Or Jon Stewart. That a corporate PR team wrote this says how unseasoned their people are. That they thought this answer was going to satisfy anyone says how out of touch they are with the world they are in.