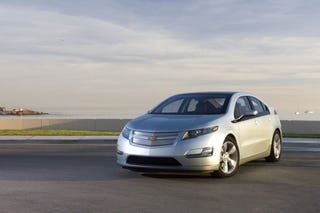 We finally know, officially, how much it will cost to own the Chevy Volt. GM has announced that their electric car is up for pre-order for $41,000, with a tax credit of up to $7,500 lowering the tally.
You can walk into a qualified GM dealership and order a Volt today in any of the seven launch markets—that's California, New York, Michigan, Connecticut, Texas, New Jersey and Washington DC—either to buy or to lease for $350/month for 36 months ($2,500 due at signing). Actual deliveries will come "late this year" in limited quantities.
Every Volt will come with a 120-volt charge cord standard, while an additional 4,400 buyers will get a free charging station as part of a Department of Energy program.