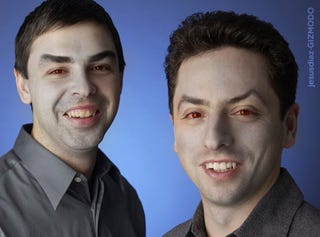 In 2006, Google co-founder Sergey Brin traveled to DC, urging Congress to support net neutrality. The New York Times reported this morning that Google and Verizon are conspiring to create tiered internet service. (UPDATING: Google denies, WSJ affirms NYT.)
If the NYT report is true (see updates below), it would be an about face that redefines "do no evil" as "do the exact thing we've been saying was evil for four years."
It has the potential to forever change how you access the internet—and how much you pay for it.
Think of the internet as a highway. Right now, all lanes are open to everyone. Nice! That means there may be traffic jams sometimes—an Apple keynote, say, or the release of a Snookie-Bieber sex tape—but it's ultimately fair. Opponents to net neutrality—ISPs like Comcast and Verizon—want to create a special high-speed toll lane, where internet providers can decide what you'll be able to see and do on the internet, and how fast.
If that metaphor sounds familiar, it's because I ripped it off. Here's Google CEO Eric Schmidt back in 2006:
Today the Internet is an information highway where anybody – no matter how large or small, how traditional or unconventional – has equal access. But the phone and cable monopolies, who control almost all Internet access, want the power to choose who gets access to high-speed lanes and whose content gets seen first and fastest. They want to build a two-tiered system and block the on-ramps for those who can't pay.
So what happened since then? Well, a lot of complaining from corporations, but no real traction until the FCC manned up to make net neutrality the law of the land last fall. And Google was all for it, according their public policy blog: